Concert Finale In Beijing
Wallace's 4-concert tour took us from Shanghai, to Guangzhou, Shenzhen, and, finally, Beijing. The final stage appeared bigger and there was not a single seat left empty. To accompany those fans who were not able to grab any tickets, they could watch the live streamed concert on Iqiyi (VIP members only though). The live streamed video has since gleaned more than 1.8 million views.
There were many high quality videos of the concert, but the sponsors have ask fans not to duplicate the video elsewhere. As a result, there will not be any video of the live streamed stream shown here. Instead, you get very nice GIFs… … Yea!!
 The overall stage setup and lighting were very nicely done !
Wallace is always happy, lively, and often forgetting his ear plug.
"We do not say goodbye" we say "take care" and look forward to going home and forward to life."
"Even if one day we grow old, we will not feel sorry, because we have been quietly accompanying each other and growing old together. Good Night!"
              HQ Photo of the Beijing Concert Click Here.
Fun BTS of the Concert
A big shout out to all the young fans of Wallace who did an awesome flash mob dance video remixing all of Wallace's fast songs. They did such a fabulous job at song editing and dancing. A job well done to all the people involved. They deserve a high five!
    Such devoted fans of Wallace!
General and I Comes To A Close
After 4 long months of continuously working day and night, the filming of Wallace's new ancient costume drama has finally come to an end on September 9th. General and I is now in the post production stage gearing up for an early 2017 release. In addition, the news media reported that a "behind the story"documentary will be the next promotional followup.
"I'm not demanding perfection, but there's no regret."                                                     -Ju Jue Liang, director
Wallace did have some hard time dealing with his horse during action scenes as other horses often get startled and hence affecting his own horse. However, he stayed professional and kept calm in front of the camera.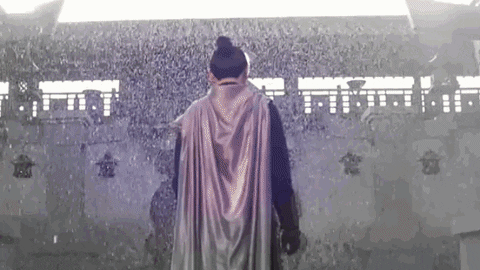 Sneak Peak at "Blooming Flowers"
The first look at "Blooming flower" (aka Yilu Fanhua Xiangsong) has been released and the chemistry between Wallace and Meggie is promising.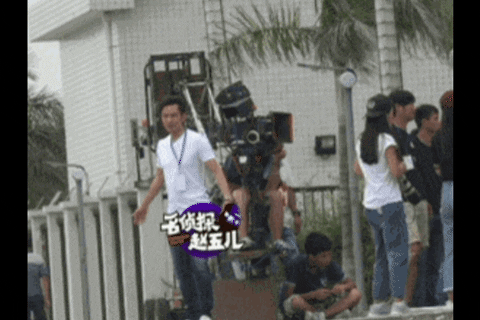 BTS Official Stills Released
If the role is too similar, I do not want to take it within a short period of time, unless I find that there are different qualities."    -WC
I'm going to give Wallace a little more credit and hope that we (mostly me) can stop differentiating this character from his He Yichen. From all the fan's BTS captures, Wallace's character looks more like a country boy.
The Golden Screen Awards
The  Golden Screen Awards nominations were announced and it's a battle between Wallace (Three),  Huang Xiaoming (Xuan Zang), and Xi Yi (Montain Cry)  for lead actor. Both Three and Xuang Zang lead in 6 tied nominations overall.
Three nominations include:
Best Actor: Wallace Chung
Best Director: Johnnie To
Best Film: Three, 三人行
Best Screenplay: Yau Nai Hoi, Liuhao Liang, Mai Tianshu
Best Camera Work: Cheng Siu-Keung
Best Visual Art
A big congrats to all the nominees. The award ceremony will be held on the 3rd of this November.
Tang Yan Mentioned Wallace
In Tang Yan's recent interview promoting her latest movie A Chinese Odyssey Part Three, she was asked about some of her most popular costars. Here's what she had to say about Wallace after collaborating with him twice: 
When Tiffany worked with Hong Kong actor Wallace Chung for the drama My Sunshine (何以笙簫默), he left a very cold impression on her. Nevertheless, she discovered that she had been tricked when they collaborated again for the movie Bounty Hunters (賞金獵人). "That's when I discovered that in his private life, [Wallace] is actually a very sunny and lively person," said Tiffany.    -Full article @Jaynestars
New Ecovacs Ads
Gif and photos are credited to the owners watermarked