New Year Celebration
To kick off 2018, Wallace debuted his 'middle-part mushroom' hairstyle at the 2018 CCTV New Year countdown singing "The Great Descendants of China (中华好儿孙 )."
Hunan
Wallace pre-recorded this performance (01/30/18) at the Hunan Spring Festival Gala for Chinese People and Descents way before his CCTV performance below. He sang "Why Love" and "Feeling Pumped", both of which he had performed during the past New Year's countdowns.
I wasn't excited, but I did geek out when the rehearsal clips of him singing "Why Love" came out. I just never thought I'll hear him sing that song again on national TV. Plus I haven't listened to that song for a while (nostalgia).
CCTV
This performance from CCTV Spring Festival was by far one of my favorites. From the artists, to stage lighting, coordination, and orchestra transition, everything was perfect. Even the selection of the artists to present the message of unity was on purpose. Wallace from Hong Kong, Huang Xiaoming China, Jerry Yan Taiwan, and Julio Acconci from Macau all joined to convey the core message of the song "Descendants of the Dragon."
Their fashion should also be noted. They all looked nicely coordinated with HXM and Julio  looking super rich in their tux. Both Wallace and Jerry toned it down by looking super relaxed and cozy in their fitted jackets. Black and red never looked so good!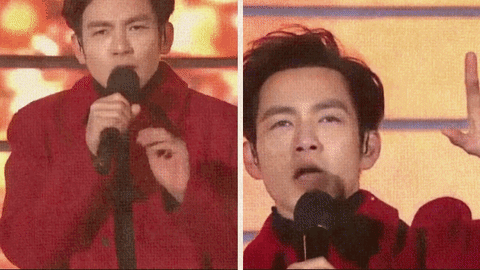 Eng Sub Edition
The good thing about this performance is that the camera focuses equally on the 4 performers. Sadly, we only get a small glance of each of them as the camera mainly directs at the beautiful transitioning of the stage and everything surrounding it.  Hence, I took the liberty to  edit this special clip so we can appreciate these awesome leading men on the same stage together. In addition, "Thanks" to Haha for helping w/ the translation!
Watch It Again on CCTV Official YouTube Channel
Here's the behind-the-scene preparation before the actual stage performances. Trust me you'll have a new-found appreciation for the programming of the Chinese New Year Gala.