Your patience paid off! Wallace performed on national TV for the Lunar New Year of Dog and finally graced the screen as Lu Fei in the 30-episode TV drama Memories of Love. And we are going to see him on Dragon TV's philanthropic reality TV show We Are In Action!
Memories of Love
From February 7th to 28th, Memories of Love was aired on Jiangsu Satellite TV and Shanghai's Dragon Satellite TV in addition to 6 video-streaming websites in China and two overseas websites (YouTube and Viki).
If we look at Memories of Love from the perspective of Wallace's character, it is about film director Lu Fei (Wallace Chung) reconnecting, reconciling, and working with dancing instructor Xin Chen (Jiang Shuying or Maggie Jiang) after a 10-year break. With the love and support of family, friends, and love rivals (LOL), they eventually made a movie based on their love story.
Reasons to Watch Memories of Love
Peanuts and Chewy wrote a great post on their first impressions of Memories of Love. Here are the reasons why I enjoyed the drama.
1 – As I watched Memories of Love, I gradually figured out why Wallace agreed to work on this drama. As a veteran actor with a dream to make films, Wallace was able to voice many of his opinions about the industry as Lu Fei.
2 – Dancing is a prominent element of the drama. Wallace loves dancing and portraying dancers. He danced in previous works like Duel for Love (2008), Let's Dance (2009), and The Wasted Times (2016). He once said he wished the audience would pay more attention to dancers. Perhaps Memories of Love helped him get a bit closer to that goal. He danced with Jiang Shuying at the end of Episode 23.
3 – Memories of Love addressed the theme of social care that Wallace is passionate about. Xin Kaiyu's Alzheimer's disease was an important part of the story. He was deeply loved by his family and friends. The "Forever Love" party in Episode 28 was very moving.
4 – The love rivals in this drama did not jeopardize the leading couple's relationship as badly as love rivals typically do in idol dramas. Instead, Lin Leqing (Yan Yalun or Aaron Yan) funded Lu Fei's film to the point where he had to transfer his shares as the CEO of Haotian Group. Ji Ruoli (Christina Yun-Wen Mok) worked with Xin Chen on the film project despite her crush on Lu Fei. How refreshing and heartwarming!
5 – The growth of all characters in this drama attests the power of time. The relationship dynamics changed as the characters grew, which was fun to watch.
6 – Memories of Love did an excellent job at cinematography and film editing.
Chinese drama reviews by fans:
I want to thank all the diligent fans who wrote in-depth reviews. Their analyses deepened my understanding of the drama.
Views and Ratings
According to the official Weibo account of Memories of Love, the drama started off on the right foot.
33 hours after the airing of the first episode, the drama exceeded 100 million views.
2/11: > 500 million
2/13: > 1 billion
2/19: > 2 billion
2/24: > 3 billion
The hashtag #Memories of Love on Weibo received 1.29 billion reads and 2.12 million discussions.
Interviews
Memories of Love didn't do too much promotion. The director talked a little about the filming challenges. After filming started on July 7th, 2016, four typhoons hit Xiamen. At one point, the set was demolished by Typhoon Meranti. This typhoon was featured in the last episode.
Director Liu Miaomiao said Wallace and Jiang Shuying did not hesitate to "torture" themselves at work. Wallace helped finesse some lines and often did more takes than the director deemed necessary. Wallace wanted to continue filming against the elements several times (Wallace…filming is important, but your life is important too!).
Wallace refused to use a double to shoot the swimming scene in the first episode. Instead, he spent four to five hours in the swimming pool for that scene in the frigid December. The next day, he caught a cold.
On February 5th, the director and three male leads of Memories of Love appeared at the Drama Airing Press Conference.
Wallace said Lu Fei's occupation as a director was new to him. Lu Fei set himself up for an excruciating torture when he decided to go back to Xin Chen because of the 10-year promise, but there is no reason not to face the memories of love, because "in the dead of night, those memories will always hit you, and they are where you most want to be. "
On February 9th, they appeared on the variety show Tonight's Live Show. 
Aaron Yan said on the show that Wallace was his idol. The first dance he learned was to Wallace's "OREA." The director said Wallace had the most "NGs" [retakes] because he was often dissatisfied with his own performance.
On February 25th, an article mentioned that Wallace looked up to the devoted Lu Fei as a role model in love. "I believe there are such people [committed people like Lu Fei.] Some people are hard to forget, whether they made you happy or not. The memories lasted for life," reasoned Wallace.
More…
Lunar New Year Performances
Wallace appeared on CCTV's Spring Festival Gala on February 15th. The gala is no longer as popular as it was decades ago, but Wallace's part was breathtaking. He collaborated with about 2,000 people to perform "Descendants of the Dragon" and "God Bless China." You can read more about that here.
Wallace felt immensely proud of being a part of the gala. He said, "[Singing the songs] gave me a very powerful feeling. This powerful feeling can inspire us and enrich our spiritual lives. By singing the songs, we hope to communicate the Chinese culture and thought and bring the Chinese people all over the world together."
In a backstage interview prior to the CCTV Spring Festival Gala, Huang Xiaoming bragged about his hometown in front of Wallace, Jerry Yan, and Julio Acconci, since they were performing in his home province Shandong. The next day, Wallace and Huang Xiaoming showed up in the Weibo Hot Search list as the "TV and film versions of He Yichen."
Wallace's pre-recorded performance of "Why Love" and "Feeling Pumped" was included in Hunan Satellite TV's Spring Festival Gala for Chinese People and Descendants on February 16th, the Lunar New Year's Day.
In the backstage interview, Wallace said he felt very happy to be part of the gala because he came to Hunan many times and everything was familiar to him. Also, the Hunan Satellite TV's gala was so festive. During the Lunar New Year holiday, he would sleep in, pig out, chat with the family, and eat his maternal grandma's signature glutinous rice cakes and radish cakes.
More…
Wallace's Lunar New Year wishes on Hunan Satellite TV
Wallace's rehearsal video for CCTV's New Year's Eve Gala (Fancam)
We Are In Action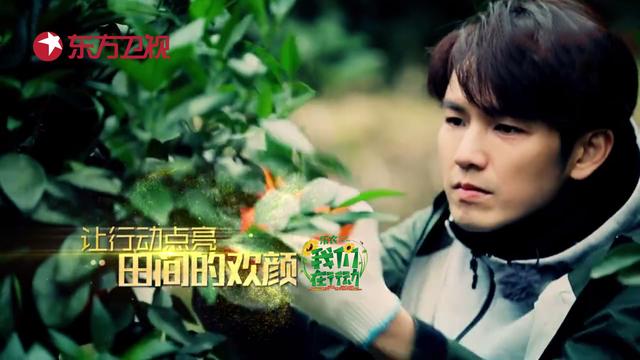 On February 2nd, the CEO of Ecovacs posted some pictures of him filming a philanthropic reality TV show with Wallace.
The new show titled We Are In Action will air on Shanghai's Dragon TV every Wednesday evening starting on February 28. A band of celebrities and business leaders constituted the cast. They visited and helped underdeveloped mountain areas alleviate poverty.
Wallace reunited with Hu Jing, his co-star in Secret History of Kangxi (2006) on the show.
The producer Chen Rong said Wallace and other guest stars jumped on board immediately even though it was an unpaid job. Wallace was eager to help whether the camera was on or not. He learned how to pluck the oranges from the farmers beforehand. All the oranges he plucked were qualified to be stored immediately.
The stars also planted seedlings and agreed to come back again in three years when their trees bear fruits.
In an interview, Wallace said he spent two nights shooting the reality TV show in Maluzhai Village in Yunnan. He saw chickens, ducks, and geese everywhere. When he trained his camera on the pigs, they followed him and stuck their snouts out of the pigsty to interact with him "very enthusiastically."
Wallace's part will air on March 14th and 21st. I remember Wallace saying last year that he was weighing reality TV show offers. He made a great choice!
Weibo Updates
2/10/2018
The Year of Dog is around the corner. [As I] looked back at [my] growth in the past year, [I felt] the HON visual art show that MoCA Shanghai and I hosted to celebrate the historic moment of the 20th anniversary of Hong Kong's return [to China] was the best and proudest thing in my opinion. Leave comments about your memories and what moved you. We will press "China Like" for you. Let's reflect on the beautiful moments of the past year. In 2018, we will forge ahead hand in hand.
The Year of Dog Wang Wang Wang! I am on CCTV #Spring Festival Gala# #tag Spring Festival Gala# Live streaming now, I am waiting for you here→ Link.
Note: "Wang wang wang" means "Woof woof woof" and "prosper, prosper, and prosper."